Speakers Who Inspire: Heather McGhee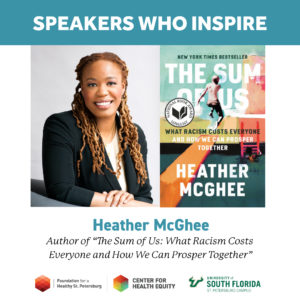 Join us March 15, 2022 from 10:30am-3pm at the University of South Florida St. Petersburg
The United States is said to have one of the most advanced economies in the world, however, policies often fail its citizens—from healthcare systems issues, to the student debt crisis, to the financial crash in 2008. The underlying thread that connects these problems is racism.
"Structural racism is the driver of inequality—not just for people of color, but for everyone." In "The Sum Of Us", Heather McGhee guides readers through the pitfalls of the zero-sum paradigm—the idea that progress must come at the expense of others.
"Now more than ever, racial division is a tool wielded by those who are the most wealthy, the most powerful, and the most self-interested," explains McGhee. Improvements to our lives and all of the commonalities which bind us are possible when we join together across racial divides.
This "Speakers Who Inspires" keynote is based on McGhee's powerful book, and will reveal the impacts of racism while highlighting actionable changes that can be made to create an equitable and just future for all.
AGENDA:
10:30 am – Early Registration
11:30 am – Heather McGhee speaks for 45 minutes
12:15 pm – Q&A and discussion
12:45 pm – Lunch
1:30 pm – 2:45 pm – Panel
2:45 pm – 3:00 pm – Closing remarks
Lunch and coffee will be provided free of charge. The event will be hosted in the University Student Center (USC) on the University of South Florida St. Petersburg campus. There will be an opportunity to purchase a book on-site and have it signed by the author.
A renowned expert on the American economy, Heather McGhee is one of the most brilliant and influential thinkers exploring inequality today. Both her viral TED talk and her instant New York Times bestseller "The Sum of Us" reveal the devastating true cost of racism—not just for people of color, but for everyone. Deeply stirring, intelligent, and compassionate, McGhee's talks offer us an actionable roadmap during one of the most critical—and most troubled—periods in history.
MADE POSSIBLE BY: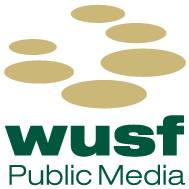 The Foundation for a Healthy St. Petersburg and the University of South Florida St. Petersburg with proud media support from WUSF Public Media.