¿y dónde está mi gente? LatinX inVISIBLE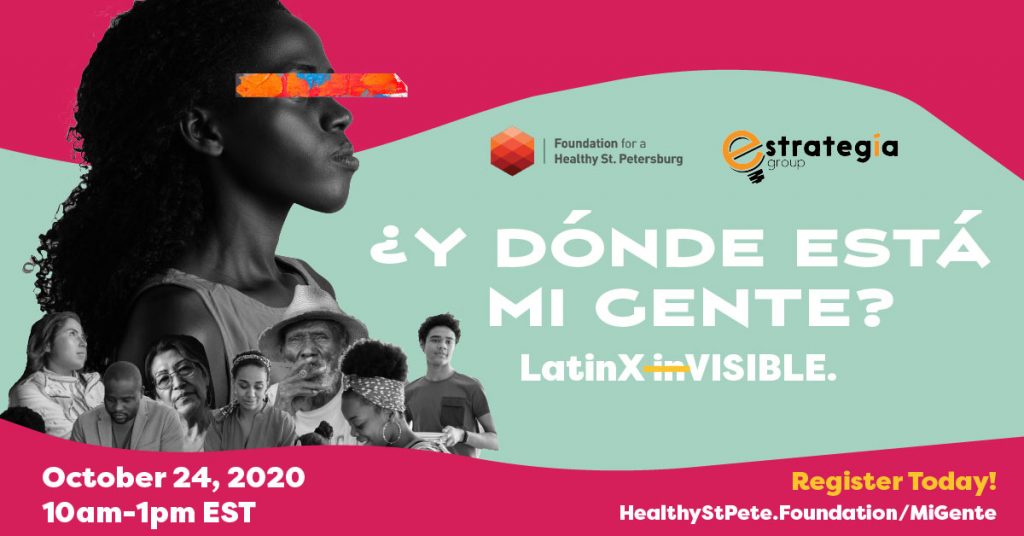 LatinX inVISIBLE ¿y dónde está mi gente? How visible or invisible is the Latinx, Latino, Latina, Hispanic community? What brings us all together to celebrate, to mobilize, to serve? The goal of our convening is to learn from our history and begin to ask questions about the cost of citizenship, the state of our health and our overall unity. We invite the cultivation of ideas on how to move forward as a united community. Be a part of this unprecedented and transformative journey. Join us as we amplify our visibility.
The Foundation for a Healthy St. Petersburg and Estrategia Group invites you to its first Latinx Virtual Convening, October 24th, 2020 10:00am-1pm EST. Simultaneous Spanish interpretation will be available.
We seek to connect with leaders who engage or identify as Latinas, Latinos, Hispanics, Spanish Speakers and are in the pursuit of unity and equity.
The Foundation for a Healthy St. Petersburg pursues a mission of race equity to attain health equity in Pinellas County and improve Population Health. This community-led convening is to explicitly begin listening to the barriers/challenges to achieving health equity that exist among the Latinx, Latina, Latino, Hispanic, and/or other Spanish-speaking people who live in our County as the fastest growing demographic groups.
---
¿y dónde está mi gente? LatinX inVISIBLE ¿Qué tan visible o invisible es la comunidad Latina? ¿Que nos une los unos a los otros para celebrar, movilizarnos, servir? El objetivo de nuestra convocatoria es aprender de nuestra historia y comenzar a hacer preguntas sobre el costo de nuestra ciudadanía, el estado de nuestra salud y nuestra unidad. Invitamos al público a cultivar ideas de cómo podemos avanzar en una comunidad unida. Sea parte de este viaje transformador y sin precedentes. Únase a nosotros para amplificar nuestra visibilidad y celebrar cultura unidos.
Foundation for a Healthy St. Petersburg y el Grupo Estrategia les invitan a su primera Convocatoria Virtual Latinx, el 24 de octubre del 2020; 10:00am a 1pm EST. Interpretación simultánea en español estará disponible durante el evento.
Buscamos conectarnos con líderes y personas unidas o identificadas como Latinas, Latinos, Hispanos, personas que hablan Español y buscan la unidad y equidad en la comunidad.
---
Featured Keynote Speaker: Paul Ortiz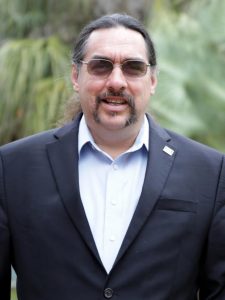 Paul Ortiz is director of the Samuel Proctor Oral History Program and professor of history at the University of Florida. He serves on the Faculty Advisory Council for the UF Center for Latin American Studies. He is currently president of the United Faculty of Florida-UF (FEA/NEA/AFT) the union that represents tenured and non-tenure-track faculty at the University of Florida.
Paul is the faculty advisor for the UF Dream Defenders, Por Colombia, CHISPAS and many other student organizations. In 2013, he received the César E. Chávez Action and Commitment Award from the Florida Education Association, AFL-CIO.
This is an online event. Please register to receive the zoom link.