Nearly $1 million Tampa Bay Resiliency Fund Activated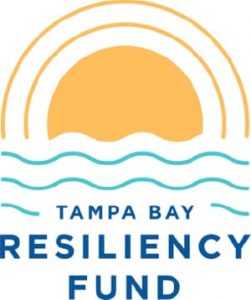 A unique partnership has been launched to help the critical organizations that provide assistance to the most vulnerable of our local residents being affected by the COVID-19 public health crisis. The Tampa Bay Resiliency Fund (TBRF) is a new strategic collaboration of the Pinellas Community Foundation, Allegany Franciscan Ministries, Foundation for a Healthy St. Petersburg and United Way Suncoast with nearly $1 million of funding assistance available to nonprofit 501(c) organizations and governmental agencies.
"There can be no doubt that race and economic fragility compound the serious and sometimes deadly results of catastrophic events that impact people in our communities. This partnership and fund are designed to prioritize a response toward our most vulnerable neighbors. Our communities, cities, counties, and region require long-term systemic solutions to mitigate harm and accelerate recovery in response to these events," said Randall H. Russell, President & CEO, Foundation for a Healthy St. Petersburg.
The Tampa Bay Resiliency Fund also provides a trusted and reliable way to donate to recovery efforts and 100% of the funds collected thorough this effort will be directed to address immediate and mid- to long-term needs through the provision of grants to select nonprofits. Distribution of funds will be overseen through a collaborative process by the funding partners above to ensure the funds are distributed fairly and equitably to address the community's most serious needs.

"This public health crisis is having wide-reaching impact from immediate needs for individuals to long-term changes in how organizations will operate. Our goal is to help fill critical gaps that are unaddressed by federal, state and local government," said Duggan Cooley, CEO, Pinellas Community Foundation
In addition to the nearly $1 million startup fund, the organizations will mutually collect donations and provide assistance through this resiliency initiative that will support organizations in Desoto, Citrus, Hernando, Hillsborough, Manatee, Pasco, Pinellas and Sarasota counties.
Nonprofit 501(c) organizations and governmental agencies will be eligible to receive assistance.
Funding allocations will be prioritized generally among the following three categories: protection of human life, mitigation of additional harm, and strengthening nonprofits related to critical intervention services to the community. Here are examples of the priorities:
1. Protection of Human Life
Emergency food, shelter and other basic needs
Access to health care services for uninsured and under-insured clients
2. Mitigation of Additional Harm
Strengthening community information systems related to safety during crisis (priority to bilingual information delivery)
Increasing health system capacity through alternative quarantine locations (ex. providing lodging assistance upon hospital discharge when patient has no viable housing plan)
Increasing access to telemedicine
Providing necessary services to vulnerable and at-risk populations (ex. food delivery for elderly population)
Critical legal aid services for vulnerable and at-risk populations
3. Strengthening Nonprofits Related to Critical Intervention Services to the Community
Technology and other resources to allow an organization to continue providing critical services (ex. Supporting the work of 2-1-1 services to be provided remotely, supporting telemedicine for nonprofit mental health providers)
Expansion of service capacity related to increased demand for direct services that aid the community during this COVID-19 crisis
By working together and pooling resources, these organizations are leveraging individual relationships and expertise to speed help to those who need it the most across our greater community. Pinellas Community Foundation is serving as the fiscal agent for this fund. For more information or to donate, visit www.pinellascf.org/TBRF.