Wealth to Health through the Saturday Morning Shoppe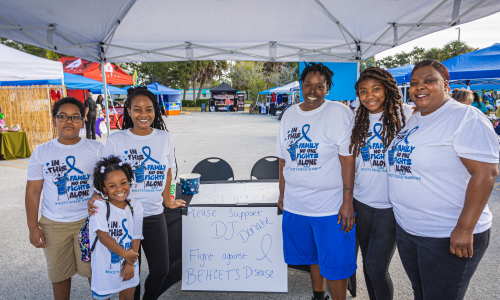 In April2021, Renee Edwards launched the Saturday Morning Shoppe to showcase Black-owned businesses in the Tampa Bay area, as well as give them a platform to network and expand. In Fall of 2021 she began the Saturday Morning Shoppe Vendor Academy, a professional and business development opportunity supported by the Foundation for a Healthy St. Petersburg.
The Academy was a 4-week long virtual and in-person professional development experience for vendors The classes focused on booth feedback, social media and websites, marketing and marketing materials, and pricing for profit. Weekly discussion questions gave vendors the opportunity to put into practice what they were learning each week as well as interact with and learn from other business owners.
Once the Academy was completed, they vendors participated in a live market. The Saturday Morning Shoppe held on December 18th, 2021, at the Skyway Marina Mall was met with great success! 1600 people attended and 54 vendors participated.
This market was one of the most financially successful Saturday Morning Shoppes yet for the vendors, many of whom attributed the success to their participation in the Vendor Academy. Vendors could utilize the skills they learned in the academy to improve their branding, marketing, pricing, mass production, and certifications.
Carla Griffith, Owner Operator of The Creative | Teez, expressed, "Neither me nor my booth will ever be the same as I have started applying majority of the information taught in the class I've noticed a tremendous difference in sales and attention to my booth…My overall all experience/overview of the class was everything was amazing, the information that Renee presented to us was pure genuine and real, Renee gave us some of her experiences that could take us to next levels as business owners."
Another participant from Passion Geeks stated, "We have noticed an increase in our sell online and at the Saturday Morning Shoppe over the last month by applying the skills we learned at the academy to our business, and we are excited to see our growth as we continue to add the skills we have learned."
Many vendors also expressed an interest in continuing their professional development and participating in another Vendor Academy, if made available, that is longer and with additional courses especially on financial planning, accounting strategies, grants, and software.
The Foundation strongly believes in "Community Wealth to Health" where economic, racial, and social justice  increase BIPOC wealth thus improving health outcomes. The Saturday Morning Shoppe and accompanying Vendor Academies are valuable resources that can help catalyze small and Black-business owners to reach their full potential and help the city and community at-large understand their unique needs and offerings.
To meet demand and continue uplifting and supporting the professional development of small and Black-owned businesses, the Foundation plans to tentatively sponsor a Part 2 of the Saturday Morning Shoppe Vendor Academy—a 6-month entrepreneur and retail component. The goal is to create continued education for local vendors on several topics including accounting, merchandising, QuickBooks, inventory, how to bounce back from retail theft, and much more!