Race Equity and the Economic Response to COVID-19: The State of Small Business Relief and Recovery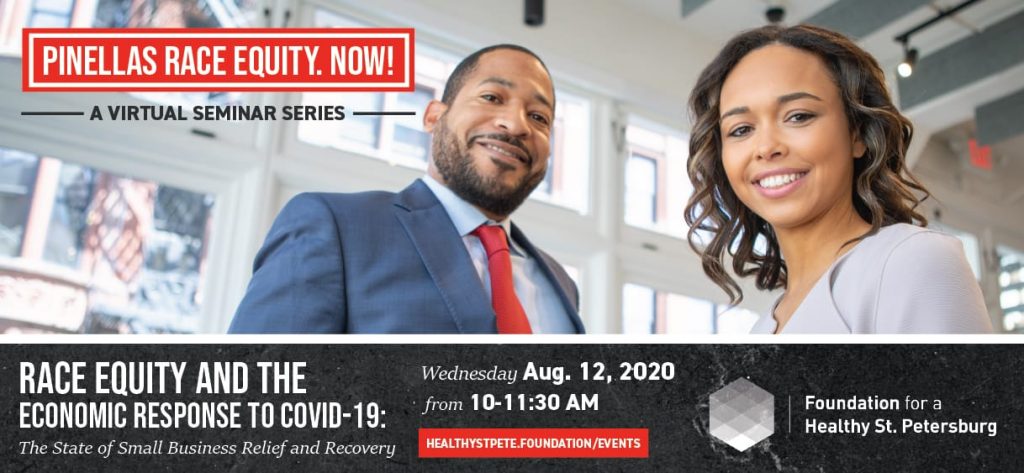 Natural disasters such as the COVID-19 pandemic traditionally hit communities of color hard. The reasons for this are numerous, ranging from the consequences of residential segregation, to lack of access to capital, quality health care, and absence of intergeneration wealth as a safety net. For Black and brown businesses, the situation is intensified—when their communities suffer economic hardship, they may fail. Yet when relief and recovery resources are distributed, Black and brown businesses do not benefit proportionately.
The panel of experts gathered for this virtual event have been working hard to interrupt that cycle of discrimination, helping to ensure that race equity plays a part in the awarding of grants and loans and relief dollars in Pinellas County. As the County begins to administer the final $36.9 million in CARES Act resources to local businesses, what precautions and proactive steps are being taken to ensure fair access and eligibility? What other programs and initiatives are supporting the local small business community, and where do things stand as we mark six months under the shadow of COVID-19.
Looking ahead, what steps can be taken to strengthen the business ecosystem and to meet the unique characteristics and needs of Black and brown businesses when COVID-19 is behind us?
Host:
Carl R. Lavender, Jr. , Chief Equity Officer, Foundation for a Healthy St. Petersburg
Panelists:
Mike Meidel, Director, Pinellas County Economic Development
Esther Eugene, One Community
Veatrice Farrell, Executive Director, The Deuces Live
Jocelyn Howard, Manager, Grow Smarter
Hillary Van Dyke and Josh Bean, Co-founders, The Green Book of Tampa Bay
———-
Event Resources