Courageous 12: A Legacy of Equity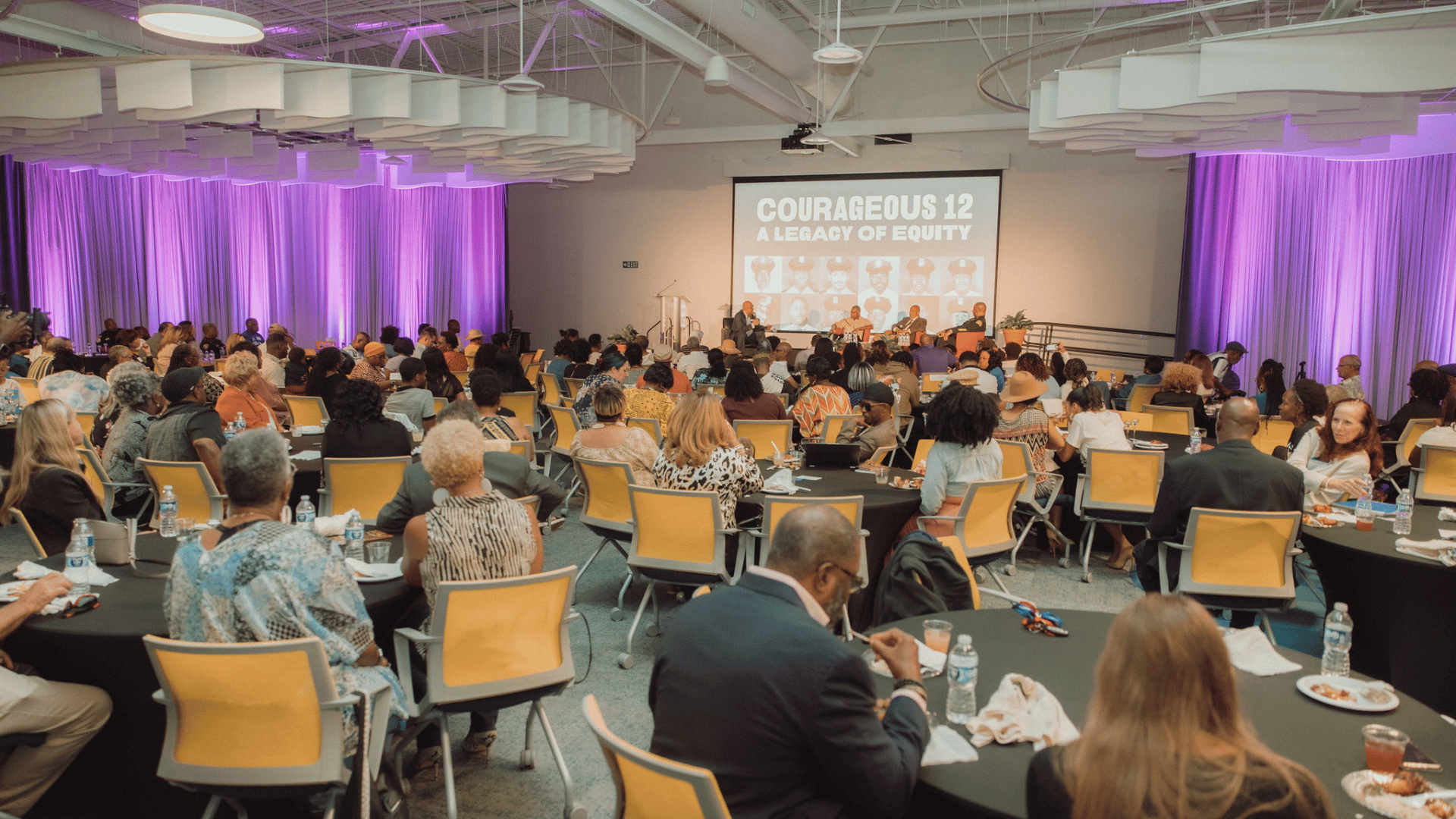 More than 220 community members gathered together at the Foundation's Center for Health Equity April 27 for Courageous 12: A Legacy of Equity. The evening honored and celebrated those 12 brave Black officers who sued the City of St. Petersburg for equal treatment, paving the way for policies and practices of today.
Back in the 1960s, Black officers were hired by the city – but forbidden to patrol white neighborhoods, make arrests, or even use the water fountain near the headquarters front desk. Fed up with the racial equities they experienced daily at work, 12 officers turned to James B. Sanderlin to represent them in a legal suit. Three years later, in 1968, they won.
Last night, we were honored to help share their story. Organized and executed by our Center for Health Equity team, the event featured a panel discussion with Mr. Leon Jackson, Jr., the last living member of the Courageous 12; St. Petersburg Police Chief Anthony Holloway; former Chief Dr. Goliath Davis III. Following the panel, which was moderated by Foundation Vice-Chair Reverend Kenneth Irby, the Center held an awards ceremony honoring Mr. Jackson and the families of Courageous 12 members. Mayor Ken Welch also attended to share with the crowd a proclamation declaring April 27 THE COURAGEOUS 12 DAY: A Legacy of Racial Equity.
At the Foundation and the Center, ideas can come from anywhere. We aim to be community-driven in our work, which means listening when people ask questions or offer feedback.
So when James Ervin, who has worked as a security guard at the Foundation for three years, asked Center Community Experience Coordinator Harold Bryant, Jr. why we hadn't hosted an event on the Courageous 12, Harold listened. Then he took action.
"I always look at topics on the history wall in the Center. Most of the people up there are no longer here. But I knew of one particular person who was still here," Earvin said, referring to Leon Jackson, Jr., the last living Courageous 12 member.
Stories are powerful. They can preserve the past and inspire action in the present. Stories can shape how we feel, how we see things, whether we have hope in the face of inequities and courage in the face of struggle.
Some stories are written down, and some are meant to be spoken aloud, shared and augmented by the experiences and recollections of others.
It took a community to put this event together. It took people like Reverend Irby, Police Chief Anthony Holloway and former Chief Dr. Goliath Davis III and, of course, James Earvin. It took a network of community members reaching out to the family members of those 12 brave officers – and Mr. Leon Jackson, Jr. himself. It also took the 220+ community members and Courageous 12 family members who gathered at the Center to hear their story and keep it going.
Racial equity is the heart of our mission. The Courageous 12's story is a powerful source of inspiration in the face of disparity, bravery in the face of injustice. Thank you to everyone who helped make Courageous 12: A Legacy of Equity possible. May their story continue to inspire us all for generations to come.
The Courageous 12 members are: Adam Baker; Freddie L. Crawford; Raymond L. DeLoach; Charles Holland; Leon Jackson, Jr.; Robert V. Keys; Primus Killen; James King; Johnnie B. Lewis; Horace Nero; Jerry Styles; Nathaniel Wooten.