Chief Strategy Officer Lisa Brody Honored With Justice Award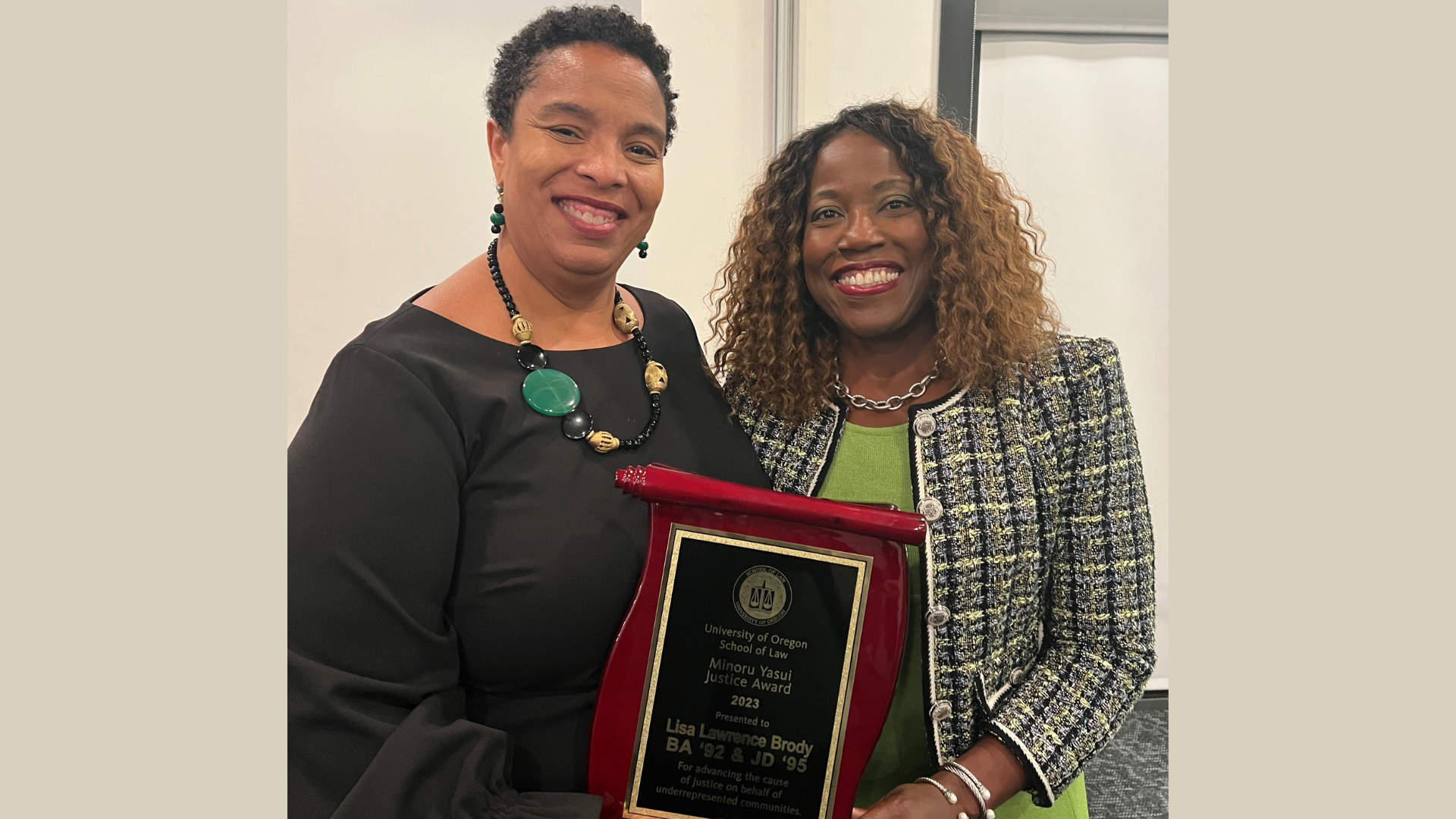 (St. Petersburg, FL – September 15, 2023) Longtime community attorney Lisa Brody was honored with the Minoru Yasui Justice Award at her alma mater, the University of Oregon Law School, on September 22, 2023. Brody, who currently serves as the chief strategy officer for the Foundation for a Healthy St. Petersburg, was selected for the prestigious award because of her commitment to advancing the cause of justice on behalf of underrepresented communities.
"Lisa has dedicated her professional life to service; her commitment to community, access, and equity is inspiring and so worthy of this well-deserved recognition," said Foundation President and Chief Executive Officer Dr. Kanika Tomalin. "Her work elevates our own. We're so proud of her and grateful to have her on our team."
As the Foundation's chief strategy officer, Brody serves as a key member of the executive leadership team responsible for strategy development and deployment, and directly oversees the Foundation's grantmaking, strategic initiatives portfolio, and research and education activities. In her work, she ensures the highest and best deployment of resources, leveraging opportunities of timing and momentum to maximize the Foundation's impact.
"It is truly an honor and privilege to do this work on a daily basis with incredible people who are committed to our community and working towards racial equity in health outcomes," said Brody of her current work at the Foundation. "Throughout my career, I've been so fortunate to be part of excellent organizations. I'm grateful for the opportunities to serve that I've had, and for this recognition from my alma mater."
Prior to joining the Foundation team, Brody served as the assistant deputy director and managing attorney for the St. Petersburg Office of Bay Area Legal Services, Inc., the largest nonprofit public-interest law firm in the Tampa Bay Area. In her 29 years as an attorney, she has advocated for tenant rights in public, federally subsidized, and private housing to ensure they have access to safe and affordable housing. During the COVID-19 pandemic, Lisa remained on the front lines to ensure that low- income and marginalized communities were able to stay in their homes.
Since 2013, Brody has served as an adjunct professor in the Paralegal Studies Program at St. Petersburg College. She is a licensed Florida attorney (1995) and a member of the Florida Bar, St. Petersburg Bar and Fred G. Minnis Bar Associations.
A graduate of Leadership Tampa Bay, she has a long history of board service and community involvement. She serves as a member of the University of South Florida St. Petersburg Campus Advisory Board, and a past member of the Bay Pines VA Community Engagement Board. She has also served on the boards of the St. Petersburg Free Clinic, Bay Pines VA Community Engagement Board, Pinellas Opportunity Council, the Youth Development Foundation of Pinellas Inc., Bayfront Hospital Board of Trustees, Pinellas Community Foundation, and Clothes to Kids. She has been a Girl Scout leader, a member of the City of St. Petersburg Nuisance Abatement Board, and a Mayoral Appointment to City of St. Petersburg Affordable Housing Oversight Committee.
Ms. Brody is a Life Member of Alpha Kappa Alpha Sorority, Inc. A proud University of Oregon alumna, she received her B.A. in political science in 1992 and her J.D. in 1995. She is a life member of the University of Oregon Alumni Association and has served as the board secretary of the University of Oregon Black Alumni Network.
The Minoru Yasui Justice Award is given to an Oregon Law graduate, faculty member, or friend of Oregon Law whose commitment to advancing the cause of justice on behalf of underrepresented communities brings honor to the school. The award is named in recognition of Presidential Medal of Freedom winner and Oregon Law Alumnus, Minoru Yasui.
About the Foundation for a Healthy St. Petersburg
The Foundation for a Healthy St. Petersburg is a private foundation formed in 2013 following the sale of the nonprofit Bayfront Health St. Petersburg. It is the steward of an endowment to support health equity in Pinellas County. The Foundation achieves health equity through racial equity by listening humbly, learning fearlessly, and leading courageously to impact systems change. In 2019, it opened the Center for Health Equity to invite people to learn, connect, and create together in order to advance racial equity and transform our communities. To learn more, visit https://healthystpete.foundation/
###