Press Release: Racism Costs Everyone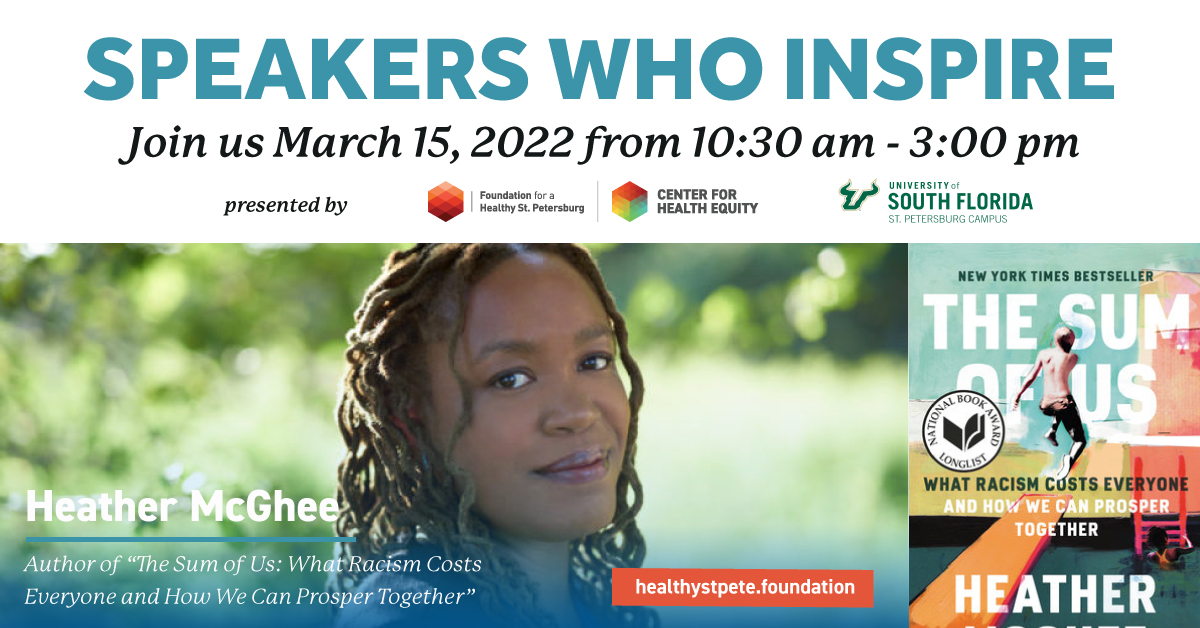 NEWS RELEASE
For Immediate Release
March 14, 2022
Contact: Shannon Kalahar
Director of Strategic Communications
727-741-5440 (call or text)
shannon@healthystpete.foundation
Racism Costs Everyone: Economic Expert Makes Cents of Equity for White and Residents of Color at Free Event
ST. PETERSBURG, Florida – Heather McGhee, renowned economist and NY Times best selling author, will give a public talk at the University of South Florida St. Petersburg campus on March 15, 2022 about the economic impacts of structural racism.
Equity and structural racism are becoming more common in the public lexicon, but many residents may struggle to identify local and immediate impacts to their lives. In this latest installment of the Speakers Who Inspire series, hosted by the Foundation for a Healthy St. Petersburg and the USF St. Petersburg campus, Ms. McGhee lends a compassionate and data-driven lens to explain the economic impacts of structural racism for people of all demographic backgrounds.
According to a regional report by the Tampa Bay Partnership published in 2020, "eliminating racial and ethnic discrimination in wealth would add $50 billion to the [Tampa Bay] region's $ 248 billion economy (a 20 percent increase)."
"We know racism from individuals and structural racism in our system combine to hold back our Black, Indigenous and People of Color as measured by holistic health and wealth measures across the lifespan of people in the United States," states Randall H. Russell, President and CEO of the Foundation for a Healthy St. Petersburg. "It's our hope that as more people in Pinellas recognize the overarching benefits of correcting policies that stem from historically racist periods, the more quickly we can improve the quality of life, and health, for all."
"This is the great moral responsibility of our time; undoing discriminatory practices to achieve true race and health equity. Concepts presented by Ms. McGhee in her book, 'The Sum of Us' are being applied locally through multi-sector collaboration including the business industry and higher education," Randall said.
McGhee designs and promotes solutions to inequality in America. Over her career in public policy, she has crafted legislation, testified before Congress and helped shape presidential campaign platforms. Her book The Sum of Us: What Racism Costs Everyone and How We Can Prosper Together spent 10 weeks on
-more-
the New York Times bestseller list and was longlisted for the National Book Award and Carnegie Medal for Excellence in Nonfiction.
"Bringing distinguished thinkers and speakers to campus to discuss key issues impacting our communities is a major responsibility of any university," said USF St. Petersburg campus Regional Chancellor Martin Tadlock. "Heather McGhee brings a perspective that allows us to challenge our own assumptions and beliefs, especially in relation to the ongoing national dialogue about forming a more equitable society for all people. We are thrilled to host her, providing our students, faculty, local businesses and residents this opportunity for greater understanding about the impacts of structural racism and what we can do about it."
Speakers Who Inspire: Heather McGhee is free, and lunch will be provided. Networking begins at 10:30 a.m., keynote from 12-1:30 p.m., and panel conversation by local businesses working in equity will last through close at 3 p.m. The public can click here to register.
FOR MEDIA: Day-of participation with photograph elements are available. Interested media should contact Shannon Kalahar at shannon@healthystpete.foundation or call 727-741-5440.
###
About the Foundation for a Healthy St. Petersburg
The Foundation for a Healthy St. Petersburg is a private foundation formed in 2013 following the sale of the nonprofit Bayfront Health St. Petersburg. It is the steward of an endowment to support health equity in Pinellas County. The Foundation achieves health equity through race equity by listening humbly, learning fearlessly, and leading courageously impacting systems change. In 2019, it opened the Center for Health Equity, a place where people come together to find the resources and partners to advance race equity and achieve health equity. To learn more, visit https://healthystpete.foundation/
About the University of South Florida
The University of South Florida, a high-impact global research university dedicated to student success, generates an annual economic impact of more than $6 billion. Over the past 10 years, no other public university in the country has risen faster in U.S. News and World Report's national university rankings than USF. Serving more than 50,000 students on campuses in Tampa, St. Petersburg and Sarasota-Manatee, USF is designated as a Preeminent State Research University by the Florida Board of Governors, placing it in the most elite category among the state's 12 public universities. USF has earned widespread national recognition for its success graduating under-represented minority and limited-income students at rates equal to or higher than white and higher income students. USF is a member of the American Athletic Conference. Learn more at www.usf.edu.