The Foundation for a Healthy St. Petersburg Announces New Board Leadership and Welcomes Four New Trustees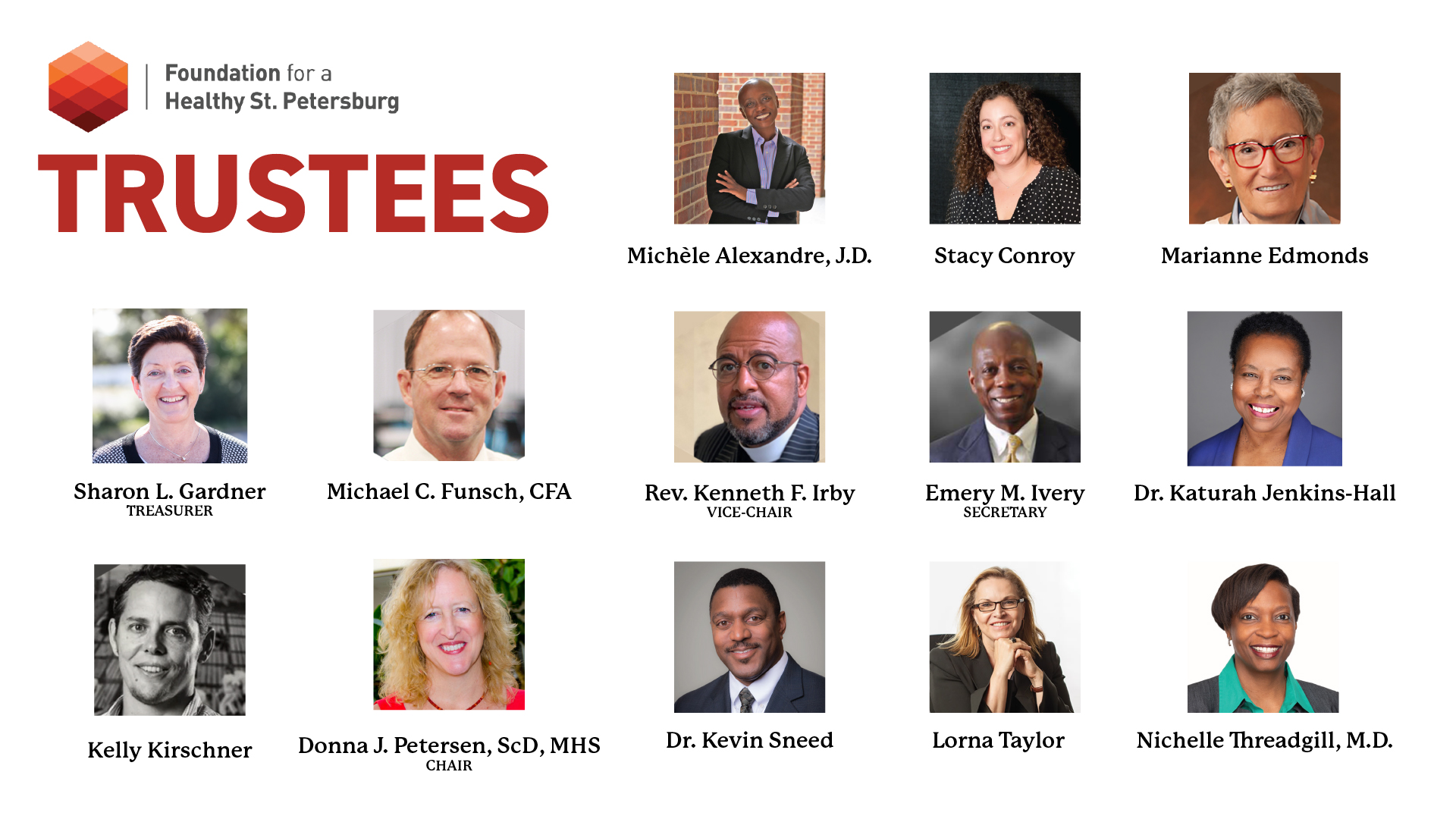 For immediate release: DECEMBER 08, 2021
CONTACT
Shannon Kalahar
Senior Manager of Strategic Communications
Shannon@healthystpete.foundation
727-741-5440
The Foundation for a Healthy St. Petersburg Announces New Board Leadership and Welcomes Four New Trustees
St. Petersburg, FL – The Foundation for a Healthy St. Petersburg has announced a new board chair, officers and four new board members who will support the philanthropy's work to achieve health equity and improve population health through race equity.
The new Chair is Donna Petersen, Dean of the College of Public Health and Senior Associate Vice President at USF Health, who will serve as the incoming board chair through December of 2023. Petersen has been a member of the board for 6 years and served as Vice Chair from 2020 to present.
The new Vice Chair is Reverend Kenneth F. Irby, Director of Community Intervention for the St. Petersburg Police Department. Reverend Irby has served on the board since 2019. The Treasurer is Sharon Gardner, a retired international business and finance expert. The Secretary of the Board is Emery Ivery, the Chief Impact Officer of United Way of the Suncoast.
"The Foundation's vision and accomplishments represent the culmination of learning from a variety of fields into focused systems change that will improve people's health over time. The vestiges of systemic racism and public health outcomes are intrinsically linked," said Dr. Donna Peterson. "The board will continue to listen, propel the good work of the community, and lean into systems level change."
"Dr. Katurah Jenkins-Hall served as our Board Chair during COVID for nearly three years and led the Foundation's mission focus and many accomplishments. Our community owes her a debt of great gratitude," Petersen concluded.
"Board selection is strategic. Members bring mastery of their disciplines, a variety of perspectives formed by lived experience and a shared commitment to race equity," said Foundation President and CEO, Randall H. Russell. "In 2022, the board has committed to a focused plan that will help accelerate social change efforts."
The Foundation elected four new Trustees at their November meeting to join the existing nine Trustees. The new board members will begin their initial term with the Foundation for a Healthy St. Petersburg effective January 1, 2022.
The four new Trustees are:
Michèle Alexandre, J.D.,
Dean, Professor of Law, and Counsel to the President for Strategic Initiatives and Operations at Stetson University College of Law.
Stacy Conroy, J.D., Board member of the Florida Holocaust Museum, and active community volunteer.
Kevin Sneed, PharmD, Senior Associate Vice President, USF Health; Dean, Taneja College of Pharmacy.
Nichelle Threadgrill, M.D., Chief Medical Officer at the Community Health Center of Pinellas.
To learn more about the Foundation for a Healthy St. Petersburg and read board member bios, click here.
# # #
About the Foundation for a Healthy St. Petersburg
The Foundation for a Healthy St. Petersburg is a private foundation formed in 2013 following the sale of the nonprofit Bayfront Health St. Petersburg. It is the steward of $170 million in assets to support health equity in Pinellas County. The Foundation inspires and empowers people, ideas, information exchange, organizations, and relationships to end differences in health due to social or structural disadvantages to improve population health. In 2019, it opened the Center for Health Equity, a place where people come together to find the resources and partners to advance race equity and achieve health equity. To learn more, visit https://healthystpete.foundation/