The Power and Legacy of Kingian Nonviolence Conflict Reconciliation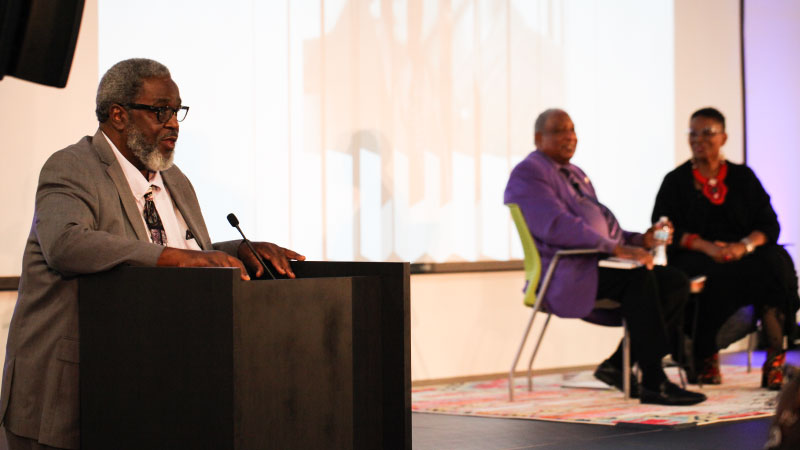 Kingian Nonviolence Conflict Reconciliation is a curriculum based on Dr. Martin Luther King Jr's philosophy of nonviolence and developed by Dr. Bernard LaFayette. Born and raised in Tampa, Florida, LaFayette was a close friend and confidant of MLK, Civil Rights Movement activist, minister, educator, co-founder of the Student Nonviolent Coordinating Committee, and director of the Selma Voting Rights Campaign.  
What is Kingian Nonviolence?
The curriculum entails learning and analyzing MLK's Six Principles of Nonviolence and six-step methodology. The Six Principles of Kingian Nonviolence are:  
Nonviolence is a way of life for brave people; 

 

the Peaceful (Beloved) Community is the goal for the future; 

 

attack problems not people; 

 

know and do what is right, even if is difficult; 

 

avoid hurting the spirit and body of yourself and others; 

 

the universe is on the side of justice. 

 
The six-step methodology includes personal commitment, information gathering, education, negotiation, and direct action. Through these principles and methodology, the curriculum enables people to become familiar with a viable, practical, and historically effective map for how to create lasting social change through nonviolent direct action and dig deep below conflicts to find true reconciliation.  
Global and Local Implementation
The program has been implemented globally, including Nigeria, Columbia, South Africa, Mexico, and the Middle East.
Femi Kennedy and Dr. LaFayette Jr. used the protocols to help 16,000 Nigerian ex-militants regain their citizenship and re-engage themselves in society. Although the pieces of training sometimes had a rocky reception, Kennedy said that by the second day there was always a shift in the room explaining, "It's natural for a person to want to love and be loved and be in a comfortable environment without any fears…everyone wants that."
In the Tampa Bay Area, Kennedy launched Abel's Community Services (Abel's)—a nonprofit organization which helps individuals and organizations develop long-term plans to champion problems plaguing their communities. Kingian Nonviolence techniques are apparent in all of their services.  For example, the Godparents Program teaches self-esteem and self-discipline to children by pairing them with several adults. They use positive group mentoring and mediation to address critical issues. The Clean Slate Program provides job training and other services that effectively change ex-offenders' perceptions of life's potential. Kennedy emphasized that Kingian Nonviolence is a "way of life" saying, "My entire approach to everything is a nonviolent approach. See every person as a potential ally. See every person with the gifts that they have."
Kennedy says that one of the areas where Kingian Nonviolence has the most potential in the St. Petersburg community is the school system because children are so receptive and open to the philosophy. Kennedy points out, "The first principle of Kingian Nonviolence is that 'Nonviolence is a way of life for courageous people.' It's aggressive but not aggressive towards a person, it's aggressive towards a condition." The enthusiasm of the community's youth reflects not only their courage but also the power they hold to address race equity individually and as a collective. Kennedy continues, "I'm not here to harm, and I'm not here to hurt. And I will prevail." And if the St. Petersburg community embraces Kingian Nonviolence in the fight towards race equity, they too can prevail.