Dream in Black and Brown
BIPOC Young People Leadership Initiative
Transformative Leadership for Advancing Racial Equity
The BIPOC (Black, Indigenous, and People of Color) Young People Leadership Initiative is a measurable and transformative program created by The Foundation for a Healthy St. Petersburg. This initiative connects BIPOC youth to opportunities which accelerate racial equity, build community, and create personal wealth.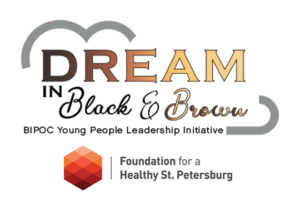 Creating our Future Together
Systemic challenges have disrupted the ability of our youth of color to activate their highest potential and advance their careers in all aspects of our ecosystem. The Foundation for a Healthy St. Petersburg is dedicated to offsetting these barriers by giving our youth the opportunity to thrive, no matter their background.
Together, we are committed to creating a space that will open a meaningful discussion and inspire pathways of advancement for young community leaders to disrupt the political, financial, economic, educational, and social systems to achieve racial equity in Pinellas County.
First Lady Donna Welch Speaks on the BIPOC Leadership Initiative
Embracing the Need for Change
Young people of color in St. Pete want to see their community thrive, but they face complex challenges related to racial discrimination and wealth inequality that hinder their progress.
We listened to their stories of facing systemic challenges, like the historical withholding of resources from communities of color, racist practices such as mass incarceration, lack of family wealth and knowledge, and limited access to career opportunities. We also heard their personal challenges such as navigating racism and discrimination, dealing with mental health challenges, imposter syndrome, and lack of faith in our government.
It is our intention to work collectively to find meaningful solutions to these complex challenges and to build a community where all individuals are able to experience lasting social and economic success.
Youth Intentionally Leading the Process (YILP)
Youth Intentionally Leading the Process (YILP) is an initiative designed by the Foundation for a Healthy St. Petersburg for youth and teens in Pinellas County to build and practice leadership skills in order to strengthen confidence, advance equity, and build lasting wealth. Our vision is to empower a community of young changemakers by honing their leadership skills and providing access to opportunities that enrich their lives and creating lasting change. We advance our mission through strategic partnerships with community organizations that specifically engage youth from underrepresented and under-resourced neighborhoods.
YILP provides students with opportunities to build relationships, prioritize mental, emotional and financial well being, and become active participants in moving our community forward to overcome racial inequities. Students have the opportunity to challenge assumptions, learn about social issues and receive mentorship, helping them to gain social change skills and build their efficacy as leaders.
Dr. Vanessa Jenkins on How to Position Our Youth to Be Successful Leaders
Our Core Areas of Focus
Deep Listening
Deep listening comes from an innate desire to understand. When we listen deeply, the voice of our community is revealed. We gain a holistic perspective of what members of our community are experiencing in their lived reality. By listening to the stories of adults as well as young people, we gain a cultural understanding of potential pathways to racial and wealth equity and the ways we can begin to address these systems to create collective change.
Curriculum Based Learning
Our curriculum is designed to help eradicate barriers and address the various disparities that exist within many of the social determinants of health. Participants have access to a wide array of transformational learning experiences including events, activities, diverse inter-generational ideation, volunteer, shadow, and internship opportunities.
Empirical Evidence
Data helps uncover solutions that propel our community forward. Through an environmental scan of leadership development outcomes of other youth-focused leadership programs in Pinellas County, our research illuminates innovative approaches to realizing equity, identifies areas of opportunity, and ensures the solutions we invest in deliver measurable results.
BIPOC Young People Summit 
The BIPOC Young People Summit will be held at The Foundation for a Healthy St. Petersburg on October 20, 2022. Participants will have the opportunity to experience keynote speakers, panels, and breakout sessions led by thought leaders in the racial equity space. 
Join a community of changemakers for an interactive day to accelerate racial equity, build connections, and learn about key themes emerging within the racial and social justice movements.
Follow Us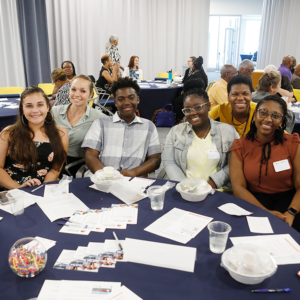 Our Leadership
Our team includes a cross section of inclusive, connected, and diverse individuals, who are dedicated to building a framework for eliminating structural barriers to success, and creating a cultural sector where racial diversity flourishes.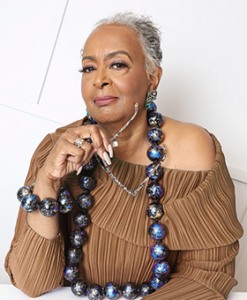 Dr. Loretta Caldwell-Thompson
As a John Maxwell Certified Coach, Teacher and Speaker and Founder of Caldwell Management Solutions, Dr. Thompson focuses on leadership growth and business development.
Dr. Thompson received her undergraduate education from the University of Pennsylvania where she received a Bachelor of Arts degree in Sociology and Urban Studies; she furthered her formal education by receiving her Master of Arts Degree from Howard University in Criminal Justice and Urban Studies. Dr. Thompson completed her doctoral degree from Nova Southeastern University in Organizational Leadership and Management.
Since opening her leadership and management consulting firm in 2007, Dr. Thompson has served on both national and international leadership teams. She has stayed abreast on new and transformational modalities that help to create lasting change.
Dr. Stanley Andrisse on Leadership Pathways for BIPOC Youth