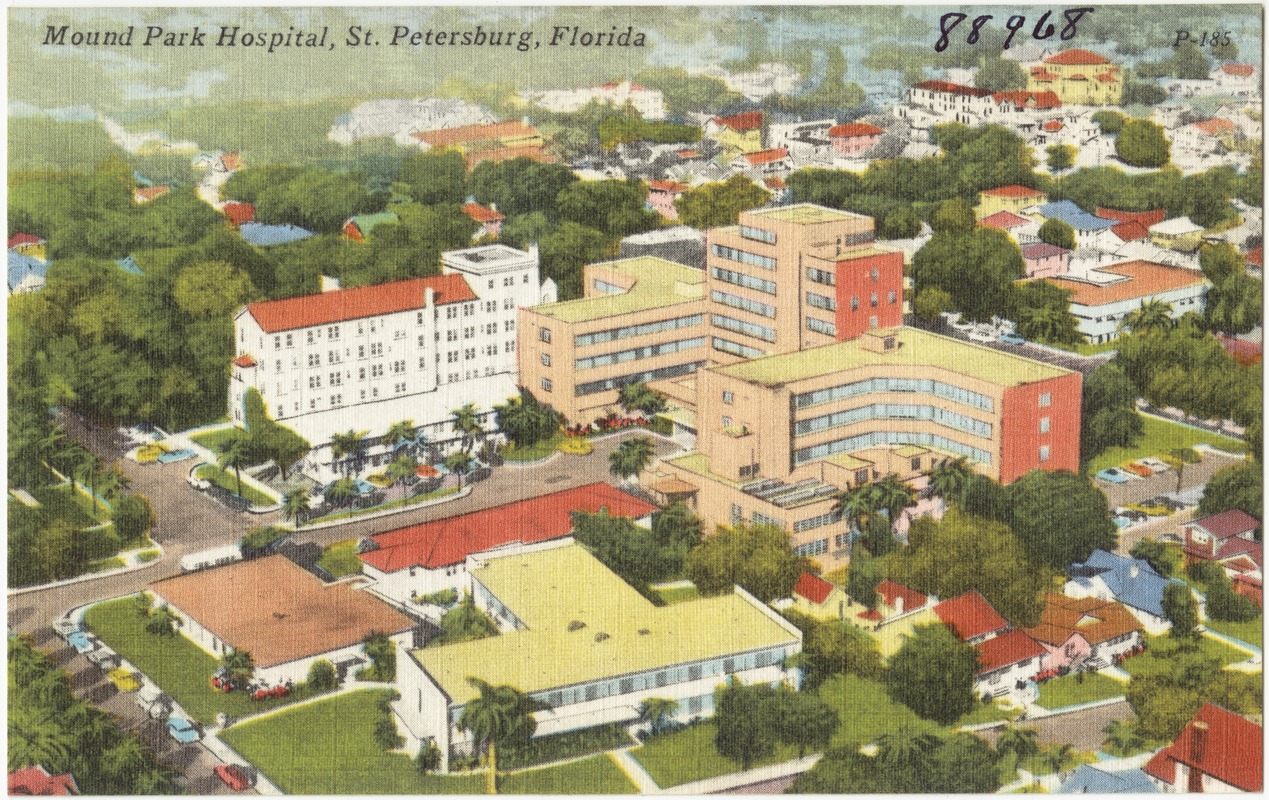 A century of history began in 1906 when a 15-bed clinic was built to serve as St. Petersburg's first centralized health care facility. Soon after, the five-room Good Samaritan Hospital was built and by 1910 the city had raised $10,000 in bond issues to build a 22-bed facility which was called Augusta Memorial. The former Good Samaritan Hospital became a separate facility to serve the city's African-American community.
In 1923, the hospital became known as Mound Park Hospital, eventually accommodating 725 beds, making it one of the finest hospitals in the southeastern United States at the time.
In 1968, the city exited the hospital business and leased the then-existing facilities to Bayfront Medical Center, Inc., a private, not-for-profit organization, renaming the hospital, "Bayfront Medical Center."
Development continued in the mid-1980s with a new emergency/trauma center, new intensive care, neurology and cardiac care units, and a new obstetrics program with perinatal and nursery facilities. In the years to come, Bayfront earned a Level II emergency/trauma center designation and implemented the Bayflite Emergency Helicopter Transport System. Today, the Bayflite program services 13 counties and is the only Medical Flight program in the southeastern United States to carry blood.
In early 2013, Bayfront Health Systems, Inc., entered into a strategic partnership with Health Management Associates (HMA). After changing its name to Bayfront Health Education and Research Organization, Inc., on April 1, 2013, it sold substantially all of the assets of the hospital and its related health care facilities to a newly formed company named Bayfront HMA Healthcare Holdings, LLC. HMA owned 80% of that company (through affiliates) and Bayfront Health Education and Research Organization, Inc. (through a subsidiary) owns 20%. HMA assumed management of the hospital, which was then re-named "Bayfront Health St. Petersburg."
In early 2014, Community Health Systems, Inc., one of the nation's leading operators of general acute care hospitals, acquired HMA and its affiliates and subsidiaries, and took over HMA's management responsibilities and 80% interest in ownership.
From the very beginning, the hospital has had a rich history of service to our community. It has annually provided many millions of dollars in charity care. Community Health Systems, Inc., which manages the hospital, has continued to honor the hospital's charity care policy, while continuing to provide the highest quality health care and contributing to our economic development.
In March 2015, Bayfront Health Education and Research Organization, Inc. renamed itself as Foundation for a Healthy St. Petersburg, Inc. The Foundation was converted from a public charity to a private health foundation. It has more than $165 million to fund its mission and is the largest grantmaking foundation in St. Petersburg.
The Foundation's focus and mission are to improve the health and well-being of our community through initiatives that create sustainable, long-term improvements to quality of life – thus expanding its century old legacy of serving the community.